If you find it difficult to keep your kids away from the mobile, computer or video game screens, trampolines could be the answer. It could pump up their heart rates as they sweat it out while jumping. What's more? You couldn't find a better way to infuse exercise into their playtime! However, buying one for your child could be a tricky affair. We have tried to make things easier for you in this article.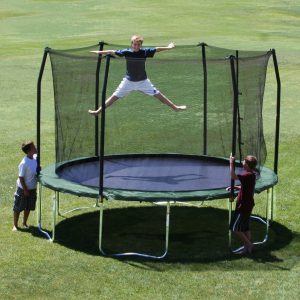 What to look out for in a Kid's Trampoline
Safety Features
The safety measures that the trampoline has to offer should be on top of your list of things that you want in your purchase. It could be in the form of a safety enclosure, a direct connection of the safety net to the jumping mat eliminating gaps, handrails in mini trampolines for maintaining a good balance, padded springs and poles for preventing any contact with the metal frame, W or U-shaped legs with a large number of ground contact points for stability, and so on.
Size
Space constraints are an important factor in choosing a trampoline for your kids at home or for your yard. The trampoline should fit the space that you have allotted for setting it up with enough room on all its sides for mounting and dismounting.
Age It Is Suitable For
It is always advisable to check the recommended age of the trampoline that you intend to buy. It is because they have safety features and weight capacities pertaining to a certain age range. Some may also have small parts that are not suitable for very young kids to play with. Usually, kids below the age of 3 years should not be allowed on a trampoline due to security reasons.
Ease of Assembly
People prefer to buy trampolines that have minimum difficulty in assembling and can be put together by less number of people in little time. The assembly should also not require extra tools and the product should be accompanied by an instruction manual giving clear instructions on the process of setting it up. That would see you through the assembly, even if it is a bit difficult.
Durability
Since the plaything bears the brunt of innumerable jumps for extended periods, it should be so built to be able to stand the test of time, unflinchingly. Sound knowledge of the materials that go into the making of the trampoline, its rust and weather-resistance properties would let you make a good buying decision.
Price
As with any other product that you buy, the cost-effectiveness of your purchase is always an important factor to consider. Though the high-quality trampolines could burn a hole in your pocket, they might prove to be value for money in the long run. And you could gain by choosing a trampoline that comes with a host of accessories like swings, basketball hoops, slides, ladders and so on, at a competitive price.
Top Picks
Best Trampoline for Kids: Skywalker Trampolines 12-Feet Jump N' Dunk Trampoline with Safety Enclosure and Basketball Hoop
Best Kids' Indoor Trampoline: Wamkos 2021 Upgraded Dinosaur Mini Trampoline
Best Mini/Small Trampoline for Kids: Little Tikes Easy Store 3′ Trampoline
Best Kids' Outdoor Trampoline: Skywalker Trampolines 12-Feet Jump N' Dunk Trampoline with Safety Enclosure and Basketball Hoop
Best Kids' Trampoline with Handle: Toddler Trampoline With Handle – 36″ Kids Trampoline With Handle
Safest Trampoline for Kids: Springfree Trampoline – 8x13ft Large Oval Trampoline with Basketball Hoop and Ladder
Best Small Kids' Trampoline with Safety Net: Skywalker Trampolines Mini Trampoline with Enclosure Net
Best Trampoline with Swing for Kids: Trainor Sports 7′ My First Jump N Swing Trampoline Enclosure Set
Best Gymnastics Trampoline for Kids: Happy Trampoline – Galactic Xtreme Gymnastic Rectangle Trampoline with Safety Net Enclosure
Best Kids' Inflatable Trampoline: The Shrunks Inflatable 2-in-1 Safety Trampoline
Best Trampoline for 2 Kids: ANCHEER Mini Rebounder Trampoline with Adjustable Handle for Two Kids, Parent-Child Trampoline
Best Kids' Folding Trampoline: BCAN
Best Kids' Trampoline with Slide: Little Tikes 7′ Climb 'N Slide Trampoline
Best Kids' Triangle Trampoline: Diggin JumpSmart Trampoline
Best Portable Trampoline for Kids: SereneLife Portable & Foldable Trampoline – 40″